STAND NUMBER: 3046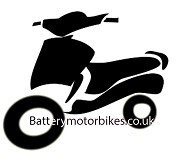 Battery Motorbikes
Here at Battery Motorbikes we are working hard to promote our new products, we think we provide a great product at a great price. We are concentrating on the small scooter market and have been met with a lot of interest. Our ElectroCruz 50Li has a range of 80 to 100 miles at 28-30mph with a recharge time from flat of 7hrs via a standard 13amp socket. Our ElecroCruz 25RLi scooter has been specifically designed with the fast food delivery market in mind. This model has a 40 to 50 mile range and utilises a removable 72volt 25Ah Lithium battery weighing only 18Kg. If you buy extra battery`s you always have a full battery ready to use. You could even take a spare battery stored under the seat as a replacement, so your bikes should never be without power. What`s more, making deliveries late at night could deter customers from ordering due to noisy motorbikes or petrol scooters being used for delivery. Our electric mopeds have the same specifications as their 50cc equivalents and can deliver in near silence.

Advertising the fact that a company uses green energy can persuade them to purchase from you. More than half of global consumers (53 percent/representing 1.1 billion people) prefer to purchase products and services from a company with a strong environmental reputation, according to a new global survey released by video-conferencing company Tandberg. Not only is a company`s environmental reputation a clear preference for its customers, but also for its employees, according to the survey. In fact, eight in ten workers surveyed globally said they would prefer to work for an environmentally ethical organization.
"The findings clearly suggest a relationship between a company`s environmental reputation and its brand value," said Tandberg CEO, Fredrik Halvorsen. "In addition to the ethical reasons for `going green`, there is a tremendous incentive for companies across the globe to focus efforts on environmental responsibility to attract customers, recruit and retain strong talent, and positively affect their external brand perception." Source: Environmental leader.

The Guardian stated that a recent study on food spend in the UK reveals we spend an annual £30bn on takeaways and fast food. In one city, residents consume an average of 156 takeaways a year. In the UK there are over 35,000 takeaway restaurants providing an abundant choice of food. Customers are now demanding more from your businesses along with ease of ordering and delivery. The takeaway sector is worth an estimated £9 billion to the UK economy of which £5.5 billion is through the takeaway delivery sector.



01903 366650